Welcome!
Come meet the
Chartreux of Carchet!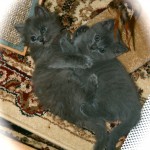 Kittens expected 2014!
See our Litter Announcement and Kitten pages.
We hope you enjoy your visit to our website featuring our International Winning Chartreux Cats, our healthy loving Chartreux Kittens and some delightful French Music by Claude Debussy, Edith Piaf and others as we share our passion of showing our "French cats."
Our cats are loving family members and are treated accordingly. Our cats are not a business.  We only breed on a very limited basis as it requires a large amount of time, energy and resources.
As you visit our website, have a look around to become better acquainted with the Chartreux Breed and perhaps learn something new about their origins.  If you desire more information or are interested in acquiring a Chartreux of your own to love, please contact us.  If we don't have anything available we will probably be able to direct you to someone who does.
Thanks for visiting!
Carole and Chet
Carchet Chartreux
Carole McFadden
TICA Chartreux Breed Committee Chair
Sound Credits: Arabesque #1 Piano Solo by Claude Debussy.
Use the video controls below to adjust volume or turn off sound.